Currently Online (35)
Extra Information
You must be logged in to post comments on this site - please either log in or if you are not registered click
here
to signup

I just arrived in Göttingen and will attempt to do some live-blogging from the
BioVid conference
here. It's all set up so there should not be any problems I can see so far. The event will also be recorded on video, so expect a link here as soon as the video goes live.
There are about 20-30 attendants in this small workshop. This is the third and final installment of this lecture series.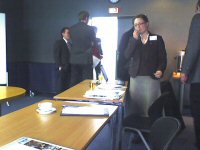 Posted on Thursday 14 February 2008 - 10:48:14
comment: 0
You must be logged in to make comments on this site - please log in, or if you are not registered click here to signup
Render time: 0.7018 sec, 0.0225 of that for queries.