Dropping the license plate to below the air intake cleans the overall look of the nose and protects the underbody.


When I drove the Miata in Texas, I never mounted the front license plate, as you can see on
the first pictures
:
Of course, this is not allowed in Germany. I nevertheless wanted to keep the nice, round nose of the car free from that ugly plate, so I started out by bending some stainless steel pieces into shape: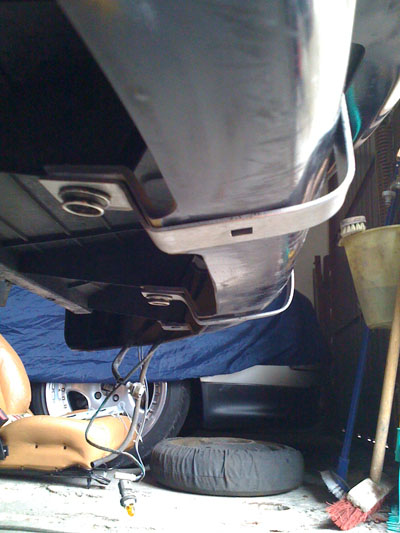 They stick up in font to allow the mounting of the license plate, but not too far, so they don't impede the airflow.:
Using JB Weld, I fixed bolts into the center to be able to attach the holders securely. Wouldn't want the plate to tear off at highway speeds and wreck the radiator.
On top of being stainless, I also dipped them in paint several times, this should prevent corrosion for the foreseeable future:
That way, each holder is screwed in place from one end (to the right in the picture above) and bolted in the center using locking nuts with large washers.
This is what the front looks like now, with the two "baby teeth" replaced with one serious tow hook and the 'toilet seat' removed in addition to the low license plate:
You must be logged in to make comments on this site - please log in, or if you are not registered click here to signup