Making a classy car even classier. Vent rings, wood trim, gauges, chrome, influx center console and more.


This is an ongoing project to enhance the very "understated" interior of the Miata.
Vents before: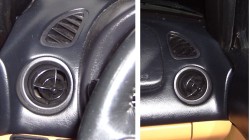 Vents after:
I also installed parts of a wood dash kit for doors 
and dash, 
making a classy car even classier: 
The empeg MP3 player with
subs in the parcel deck
and the
triple VDO gauges
are installed as well.
Here's what it all looks like now:
Obviously, something must be done to the parking break habndle...
You must be logged in to make comments on this site - please log in, or if you are not registered click here to signup