A complete make-over of the Miata audio system. I added Kappa two-way speakers to the doors, subwoofers in the parcel shelf, two amps and the Empeg. The sound is amazing!


This is the center dash before I started opening it up:
This is what it looks like all open:
I took the occasion to install
triple VDO gauges
in the space under the empeg.
After it is all wired up, it's almost ready to receive the gauges and the empeg:
Notice the new Kappa in the passenger door.
For the subwoofers, I took off the parcel shelf:
... marked the holes for the subs:
...cut the holes out:

... and mounted the Legacy 8'' free-air subwoofers:

I mounted the amplifiers in the tunnels next to the tank under the parcel shelf. If you use the same grounding spot and get the power directly from the battery, this works just fine with almost no noise. What little noise is left, RCA noise filters take care of.
And this is with the parcel shelf back in place: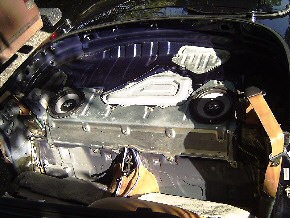 .
Obviously, at the time, I had the top removed, so I took the opportunity to replace my old top with a
2001 NB top
.