A glass window with defroster and no zipper is what the softtop off of an NB Miata offers!


The installation of a 2001 NB top on the NA is a straightforward plug-n-play install. All you need except the top is a defroster relay for the plug in the trunk (next to licence plate)...
and the dash-switch for the defroster:
Since the NA and NB defroster plugs are not compatible, I had to cut the NA plug off. Luckily, the wires come in three different thicknesses - all I had to do is to solder the thikest to the thickest, middle to middle and thin to thin for the defroster to work.
Now I have a glass window, with no zipper and a defroster. I love it!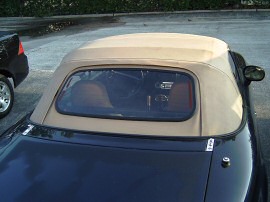 You must be logged in to make comments on this site - please log in, or if you are not registered click here to signup